2017 Is a Fire Rooster Year
In Chinese astrology, each zodiac year is not just associated with an animal sign, but also one of five elements: Gold (Metal), Wood, Water, Fire, or Earth.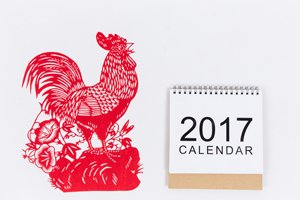 Both the zodiac sign and the element shape the astrology of the year. For example, 2017 is a Fire Rooster year. Element-sign combinations recur every 60 years.
The following famous fire Roosters will be 60 this zodiac year: Dawn French, Donny Osmond, Martin Luther King III, Stephen Fry, Hans Zimmer, Dolph Lundgren, and Jools Holland.
Are You a Rooster?
People born in a year of the Rooster are called Roosters in China. You have a 1 in 12 chance of being a Rooster.
Rooster years are generally dated by the Chinese lunar calendar (starting at Chinese New Year). So if you were born in January or February, use the tool on the right to see whether you're a Rooster.
Here are some of the world's most famous Roosters:
Bob Marley (born 6 February 1945), a Wood Rooster
Jennifer Aniston (born February 11, 1969), an Earth Rooster
Jennifer Lopez (born July 24, 1969), an Earth Rooster
Britney Spears (born December 2, 1981), a Gold Rooster
Rooster Years Are Unlucky for Roosters!
According to Chinese astrology, the year of one's birth sign is the most unlucky year in the 12-year cycle.
In a year of your sign, horoscopes for all aspects of your life will not be very good. However, you can reverse fate by attention to the God of Age "star" and warding off bad luck.
The Luckiest Things for Roosters
Lucky numbers: 5, 7, and 8
Lucky days: the 4th and 26th of any Chinese lunar month
Lucky colors: gold, brown, and yellow
Lucky flowers: gladiola, cockscomb
Lucky directions: south, southeast
Lucky months: the 2nd, 5th, and 11th Chinese lunar months.
Things That Roosters Should Avoid
Unlucky color: red
Unlucky numbers: 1, 3, and 9
Unlucky direction: east
Unlucky months: the 3rd, 9th, and 12th Chinese lunar months
Source: http://www.chinahighlights.com/travelguide/chinese-zodiac/rooster.htm